Today is Thursday, February 16th, and across the United States, many businesses are either closing or restricting hours as a sign of solidarity and a protest against the actions being taken against immigrants by our government.  They're also a protest against the rising tide of racism and white nationalism that is seen in the news regularly today.  The Charlotte Observer has published a list of local businesses that are participating in the day of protest here if you want to support them.
While we here at Smiles by Payet Family Dentistry are open as usual today, I would like to add my voice to this protest for 2 very important reasons:
If it weren't for one particular immigrant, my family wouldn't exist.
If it weren't for that same particular immigrant, I would have gone bankrupt and closed the practice around 2008-2009 during the Recession.
Who is this particular immigrant, who is so foundational to my life and work?  It's my wife, Faranaz Payet.
Fara's (and Our) Story
Fara and her daughter, Natalie, were born in Pakistan.  Fara and her twin sister, who lives in New Mexico with her family, were well-educated and both earned their MBAs at one of the top universities in Karachi.  In 2002, after working with Deutsche Bank in Southeast Asia for 11 years, Fara came to the USA on a student visa, along with Natalie, who was 7yo at the time.  Fara earned her MBA degree at the College of William & Mary, after which she was hired by Wachovia Bank and stayed in the USA on an H1B visa.  They moved to Charlotte in late summer 2004, and Fara and I met (through Match.com!) in January 2005.  I proposed to her in October 2005, and we were married in March 2006, so as of this article, we are approaching our 11th anniversary.  Our younger daughter, Elizabeth, was born in October 2006.
Fara originally applied for their green cards, or permanent resident status, through Wachovia Bank, but after the wedding, we changed the application to reflect that she is married to a US citizen.  I actually don't remember when she and Natalie received their green cards, but  I do know that it cost many thousands of dollars in legal fees and took several years; I think it was around 2009.  After that, it took another 5 years and many more thousands of dollars in legal fees before Fara became a naturalized US citizen in the summer of 2014.  Because Natalie was over 18yo by that point, she did not automatically receive her US citizenship at the same time as her mom; she didn't become a naturalized US citizen until January 2017.
So without this one particular immigrant, my family would not exist, and I truly can not imagine my life without them.  I am blessed beyond measure with these three amazing women, and 2 of them are immigrants.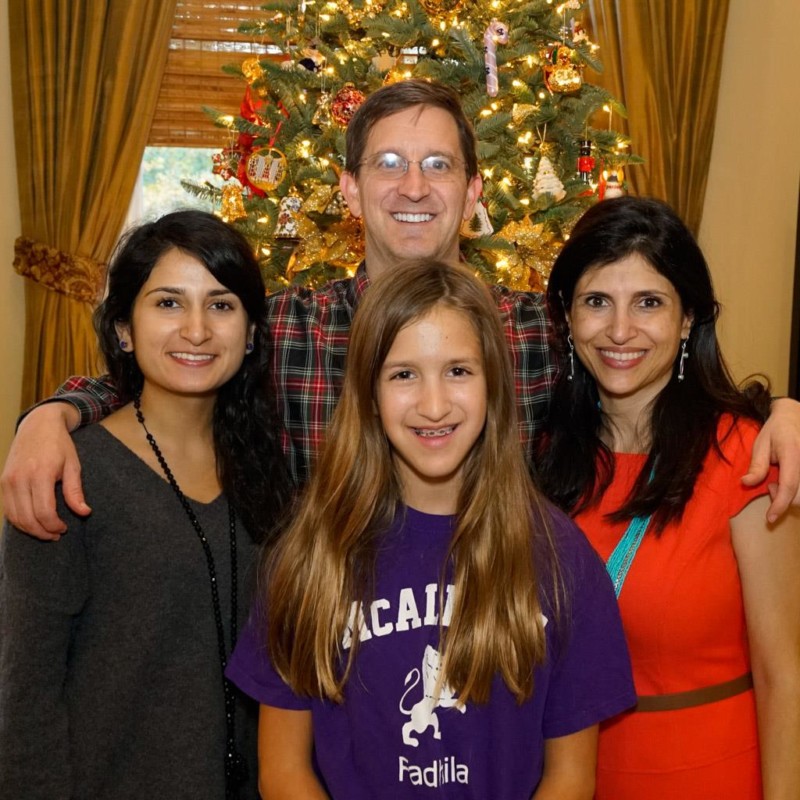 Smiles by Payet Dentistry Wouldn't Exist Without Fara
December 14th, 2014 was kind of a big day for our practice: it was the 15th Anniversary of opening our doors at the original location near Southpark Mall.  I blogged about those 15 years here, and one of the key points that I made was how awful I was at running the practice for the first 10 years that we were open.
"Sadly, while I've always prided myself on being a very good dentist, early on I was a horrible businessman and quite frankly, over the next several years, the practice came close to shutting down several times.  I was the poster-boy for credit card debt and lack of financial restraint, and by late 2004, despite good growth, the practice was in serious trouble."
I'm absolutely serious when I tell people that, without Fara, I'd have gone bankrupt years ago.  Not because I was bad at dentistry or taking care of our patients; those are the things at which I'm best.  No, I was just a bad businessman and terrible at financial management, human resources, stuff like that.  It wasn't until Fara got involved, first with accounting and paying the bills, ultimately with taking over the day-to-day management of the practice, that things started improving.  Since she came to run the office full-time in September 2011, our practice has grown more than 80%.  She is 95% responsible for human resources, scheduling patients, paying all the bills and taxes, making sure patients are happy, ensuring patients are on regular checkup schedules so they stay healthy, and so much more.
Immigrants are the Foundation of the USA
Many people have already said it more eloquently than I, but I am a passionate believer in the American ideal of being welcoming of strangers, of immigrants, of refugees and asylum seekers.  My family background includes German, French, Polish, English, Scottish, and Welsh; my ancestors came to the USA from the 1700s to the early 1900s.  Fara and Natalie are 1st generation immigrants.  Where we come from really doesn't matter though, because what matters is this:
We Were All Immigrants Once,
but now,
We Are All Americans