Family Dental Care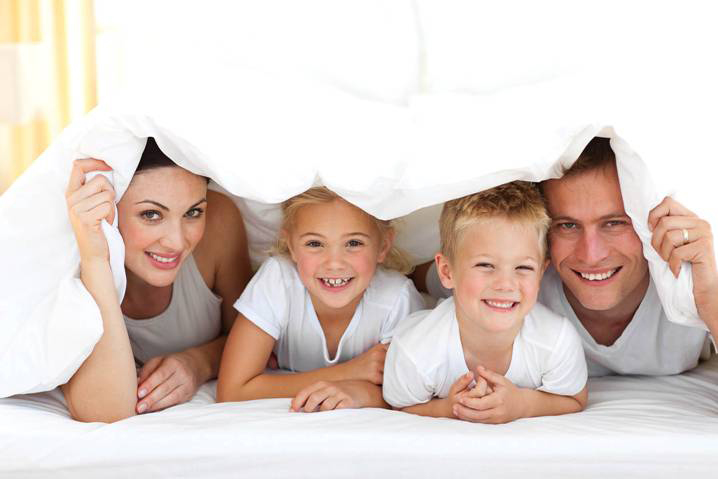 Compassionate Family Dental Care in Charlotte NC
When most people think of "Family Dental Care," they generally think of the routine kind of dental care needed to just keep your teeth healthy and fix little problems as they come along.  And while we offer a lot of procedures usually only found in dental specialist's office, our main job is taking care of your family's dental health, at ever stage of your life.  And because each stage of life, from kids, to teens, to young adults and on up to the Baby Boomers, has different needs and problems, we customize our general care to your specific needs.
Your Family Has Different Dental Needs as You Grow
Kids, teens, and young adults: it's about prevention, which means keeping your teeth healthy so they don't need any work. This includes things like:

fluoride varnishes to harden and strengthen young teeth,
sealants to close off the deep grooves in the adult teeth as they come in, and
regular check-ups and cleanings to catch any problems while they're small and maybe even reversible.

Teens and young adults, as you transition from home to taking care of yourself this is a time when many people get their first cavities, as they're drinking sodas, sports drinks, energy drinks, and unhealthy foods while thinking they're invincible.  Catch these problems while they're early and small, and you can save yourself lots of time in the dentists' chair later in life.
Moms, there are specific challenges associated with pregnancy and post-pregnancy, such as the acid damage to teeth caused by morning sickness and acid reflux.
Generations Y and X: you're in that time of life that your appearance is crucial for jobs, dating, and your self-esteem, so we offer lots of options for a great smile to show off to the world.
Baby Boomers and beyond: there are concerns associated with the increasing numbers of medications and illnesses that have a direct effect on your mouth.  The right products and habits will minimize the risk of problems, and regular check-ups and cleanings again catch problems while they're small and easy to fix.
Keeping Your Teeth Healthy at All Ages
As much as it's cool doing "No-Shot, No-Drill, No-Pain" laser dentistry with our Lightwalker dental laser, or using our CEREC technology to make a digital impression for a same-day crown, our goal is to actually KEEP you healthy.  And no, you don't need to wonder if I'm worried about putting myself out of business.  LOL  In all seriousness, since less than 1/2 the US population sees the dentist regularly, there will always be more than enough teeth to fix to keep us busy.  But it doesn't have to be that way, and when you come in for regular dental check-ups, we take the time to ask questions and offer recommendations on anything possible to keep your mouth healthy, or to get it healthy again. This might include things like:
Oxyfresh toothpaste and/or mouthrinses, which are great for bad breath (halitosis), gingivitis, or even gum disease, or
Prescription products such as Peridex mouthrinses for severe gum disease, or a super-concentrated toothpaste like Prevident 5000 that you get at the pharmacy, orA
 Sonicare electric toothbrush – our hygienists LOVE their patients who use a Sonicare, because those teeth are always much cleaner!
A NTI Nightguard to stop you from grinding your teeth at night and wearing them down.
MI PASTE PLUS remineralizing paste to reverse early cavities, slow down big ones, and prevent new ones
Convenient Dental Care for the Whole Family
We understand just how hard it can be to get to the dentist, especially if you, or any member of your family, needs multiple things.  We know it's not easy getting off from work, or school, or activities, so by offering so many different services, we make it truly convenient for you.  Without the need to refer you to a bunch of specialists (except when appropriate), and by letting you stay in just 1 office, you won't have to take as much time off.
Lots of Treatment at Once, or Spread it Out Over Time – Your Choice
I'll never forget meeting a rather anxious new patient many years ago; she'd recently visited another dentist and been told she need 10 visits to fix 10 cavities.  One filling per visit!  Needless to say, that was NOT convenient for her at all.  She wanted to know if we couldn't just do all of them at one time, because she couldn't take time off from her new job for the other dentist.  "Absolutely!" we told her, and that's what she did.  1 long visit just worked better for her.
Not everyone wants this of course; some people need to spread treatment out over weeks, months, or years.  And again, we do our best to accommodate each patient, rather than force them into a "one-size-fits-all" schedule.  So if you want to do 1 filling at a time, sure we can do that.  Or maybe 3-4 at a time?  Sure!  Or just get them all done at once, so all you need is regular checkups after that?  No problem.
Whatever your needs may be – whatever your age – we would love to welcome you to our dental family.  From my family to yours – come on in!
To make an appointment:
Request an Appointment Online or call us at 704-364-7069.
We'll look forward to meeting you soon!