Root Canal Therapy
Patients fear root canals more than almost anything, but it doesn't have to be that way!  In Dr. Payet's  convenient south Charlotte dental office, his comforting manner and advanced technology  make your root canal experience a breeze.  He recommends the option of anti-anxiety medication if you're very anxious or nervous, so you're relaxed and at ease.
Root Canals Should be Painless
Many patients actually fall asleep in the chair while having had root canals done by Dr. Payet, even without sedation.  Some of those patients were scaredy-cats at first, but once they realized it didn't hurt, they relaxed and fell asleep.  The experienced and knowledgeable team at Smiles by Payet Dentistry will put you at ease and answer your questions.  They'll tell you how they use modern technology to improve your oral health and eliminate infection, too.  No other Charlotte emergency dentist offers all of these for your comfort and successful treatment:
Dental operating microscope (DOM)
Digital x-rays
Dental Microscope for Root Canal Therapy
Since teeth are pretty darn small, it's appropriate to consider a root canal micro-surgery.  That's why Dr. Payet uses a Leica Dental Microscope.  Almost all endodontists (root canal specialists) use one, but less than 3% of family dentists do.  Dr. Payet was the first Charlotte dentist (non-specialist) to use dental microscopes in 2009.  He'll tell you, "Once I used a microscope the first time and could see better than I ever imagined, I'd never do a root canal without the microscope again. Simply put, the dental microscope allows me to see such incredible detail inside the tooth, I can treat it more conservatively, more effectively, and faster than otherwise possible."  This photo shows what it's like for Dr. Payet, as you can actually see all the way to the tip of the tooth where it ends!
Laser Root Canal Disinfection
The most important part of a root canal, is thoroughly cleaning & disinfecting the inside of the tooth.  This kills off the infection that's hurting you.  As Charlotte's most experienced laser dentist, Dr. Payet has used dental lasers to treat tooth abscesses since 2009.  In 2014, he became the first Charlotte dentist to offer PIPS Laser Endodontic Therapy, and patients absolutely love it. Disinfecting solutions are used, combined with the Fotona Lightwalker Er:YAG dental laser.
This video illustrates how the Lightwalker rapidly clears all microscopic debris and infection out of the tooth.  It does so by creating microscopic shock waves, which flush out bacteria & tissue, leaving it smooth & clean. In just a few minutes, Dr. Payet ensures all the infection is gone, so you'll heal quickly and comfortably.
Do Lasers Mean No Shots & No Drill?
Patients often ask if laser dentistry means no numbing or drill.  While Dr. Payet often does painless fillings with no shots and no drills, no numbing is a bad idea for an infected tooth.  The drill is often faster than the laser.  If a tooth is already sensitive or infected, using the laser is painful.  You definitely want to be numb for a root canal, no matter what.  You can't touch nerves with anything, even intense light energy, and expect to not feel pain.
Digital X-rays
Dr. Payet's office uses digital x-rays, including 3D x-rays, to diagnose and treat teeth with root canals.  Digital enhancement gives Dr. Payet all the detail needed for fast, easy, comfortable, and successful results.
Dr. Payet's Personal Testimonial:

I know from personal experience that root canals shouldn't hurt.  Back in 2007, after getting a very deep cavity filled, one of my molars abscessed, and it hurt really badly.  A colleague got me in quickly, and let me tell you – when I went in, I was in a lot of pain. After numbing, I never felt anything after the numbing.  There was ZERO pain after the numbing wore off.
Do You Need a Crown After a Root Canal?
After a root canal is finished, the tooth is weaker, just like if you could take out the inner core of a tree.  That's why many teeth need crowns.  If you need one and don't get it, the weakened tooth can break off.  Dr. Payet frequently extracts teeth with root canals, because the patient didn't get a recommended crown.  However, the answer  to the question, "Do you need a crown after a root canal?"  really is: "It depends!"
Front teeth often don't need a crown after a well-done root canal, unless the tooth was already badly broken down by a big cavity or trauma.  A tooth-colored filling is perfectly fine, if the hole was kept small.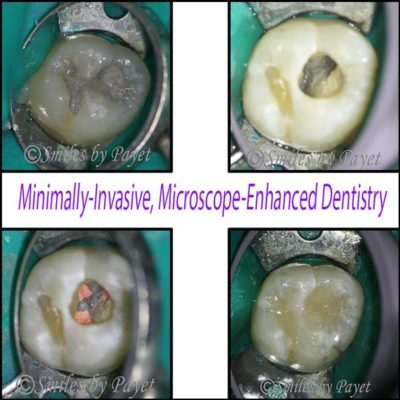 Molars and premolars almost always need a build-up filling and crown to make the tooth last a very long time. Why? Because those are the teeth that you use the most when chewing, so they take the most force. Those teeth need to be held together and reinforced by a crown. Dr. Payet's dental microscopes allow extremely conservative treatment, so you may not need a crown.
Convenience is a Root Canal and Crown in One Appointment
Dr. Payet uses the best technology for your convenience and comfort.  Combining laser disinfection and the CEREC 1-Visit Crown system allows him to finish your root canal and crown in a single convenient visit.  Teeth that are badly infected and abscessed may still take 2 or more visits though. Root canal therapy with Dr. Payet is fast, comfortable, and done to the very highest standards.
To make an appointment:
Request an Appointment Online or call us at 704-364-7069.
We'll look forward to meeting you soon!