Orthodontics
Adult Orthodontics & Clear Aligners
If you're looking for Adult Orthodontics in Charlotte, look no further than Smiles by Payet Dentistry.  Dr. Charles Payet has provided Charlotte patients with practically invisible Six Month Braces since 2004, longer than almost any other Charlotte dentist.  He was also the first to offer the Inman Aligner in 2010.  Clear aligners such as Invisalign offer yet another choice for a beautiful new smile.
Many adults grew up when the only option was metal brackets.  They understandably don't want a metal-mouth for 6 months to 2 years, but they still want a straight, natural, beautiful smile.   At Smiles by Payet Dentistry, adults can choose from several options to straighten their smile.  Improvements in practically invisible ceramic brackets, and strong but flexible clear aligners, make adult orthodontics more comfortable  & less obvious than ever.  Our Charlotte dental office offers 3 orthodontic options:
If your teeth are badly worn, broken, or stained though, braces can't correct that. Sometimes adults need braces to make cosmetic dentistry easier & less invasive, but ask Dr. Payet if porcelain veneers are a better alternative for you..   If your teeth are naturally beautiful though, orthodontics is always less expensive and less invasive.
Orthodontic Options:
Powerprox Six Month Braces for Adults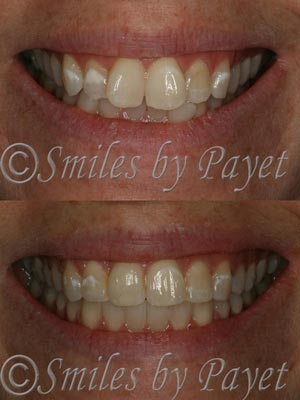 Dr. Payet was the first Charlotte dentist to offer the Powerprox Six Month Adult Braces system in 2004.  This proven system for clear adult orthodontics is a highly effective, comfortable, and affordable way to create a beautiful smile, often between 2 checkups!  The system uses practically invisible brackets made of ceramic, so they blend in with your teeth & don't stain, even with coffee or tea.  The wires are coated to look like enamel, too.  Although this option is not as "invisible" as clear aligners, they give Dr. Payet greater control over tooth movement.  The Powerprox Six Month Braces system corrects many alignment issues faster & more effectively than aligners or the Inman Aligner.
Invisalign
At our practice, we often recommend Invisalign.   Invisalign has been the leader in clear removable aligners for decades & is extremely successful.  Many adults prefer clear aligners, because they can be removed for eating and important social or work events.  It's also much easier for you to brush and floss normally, and excellent hygiene is important during all types of adult braces. It's critical however, that you're diligent about wearing the aligners at least 22 hours every day. Not wearing them a bare minimum of 20 hours a day, means the aligners won't do a good job of straightening your teeth.
Dr. Payet always asks, "How good are you at staying on task for really long periods of time?"  If you're good at that, clear aligners may be the right choice.  If not, you'll be frustrated and unhappy, so you should choose Powerprox Six Month Braces instead.
Each set of aligners is worn for 1-2 weeks, so you'll pick up 3-6 sets of aligners per visit.  This means, you'll see Dr. Payet every 6-8 weeks, which is less than the monthly visits for braces.  Keeping on schedule is important to finishing on time.  If the aligners aren't fitting correctly, new sets need to be made promptly.  It's not unusual to need 1-2 rounds of refinement aligners, as aligners aren't as precise as brackets.
Can Anyone Use Aligners?
While invisible braces can treat most orthodontic problems, clear aligners aren't as effective. The flexible aligners simply can't treat complex bite issues well, as they don't allow the same degree of tooth control. If you want to correct one of the following problems with your smile, aligners can work well.
Misaligned front teeth
Crooked teeth
Spaced teeth
Overcrowding
Some overbites
The Inman Aligner
The Inman Aligner is a great option for patients only unhappy with the alignment of front 4 top or bottom teeth. It's a removable aligner worn on the inside of your teeth to quickly straighten the front teeth in 6-18 weeks. Composed of nickel-titanium springs that push/pull the aligner sides towards each other to move the teeth. The movement is strong and move teeth quickly, but it's only a quick fix for front teeth.
Adult Braces Only!
While Dr. Payet loves giving patients a great smile, he's most comfortable treating adults.  Dealing with the growth and development of kids and teens is challenging, so he recommends seeing one of the many excellent orthodontists in Charlotte.