December 27th, 2014 Was a Big Day!
It's actually been 16.5 years since I graduated from the University of North Carolina at Chapel Hill School of Dentistry (that's a mouthful for you, eh?) as a brand-spankin' new dentist, but Dec. 27th, 2014 was indeed the 15-Year Anniversary of opening the doors of my own dental practice in the Southpark Mall area of Charlotte, NC.  After 10 years there, we relocated a couple miles away to our current office; it will be officially 5 years in this office in late March 2015. And what a ride it has been!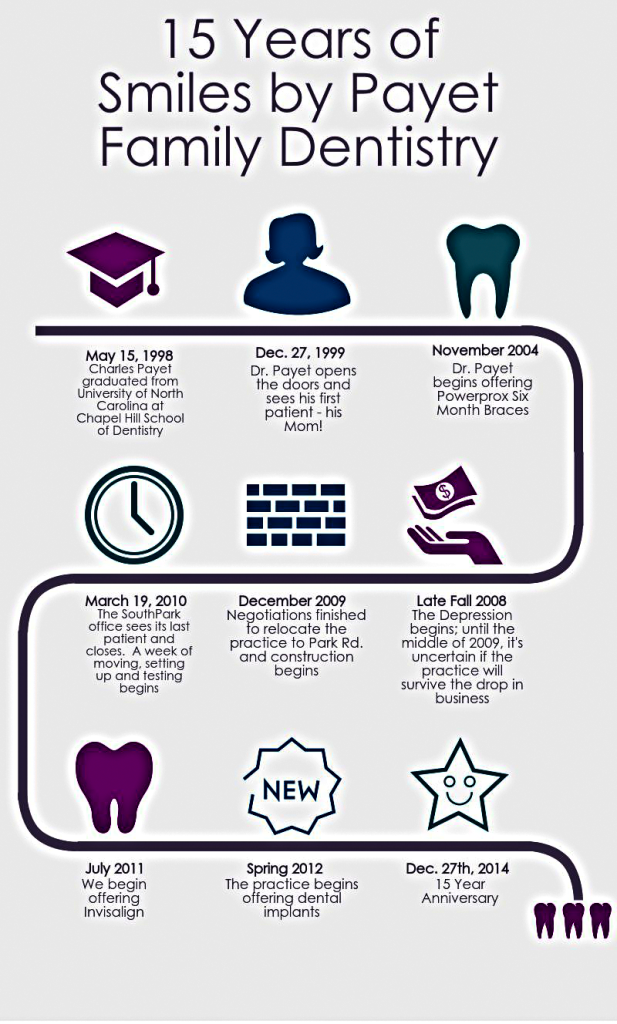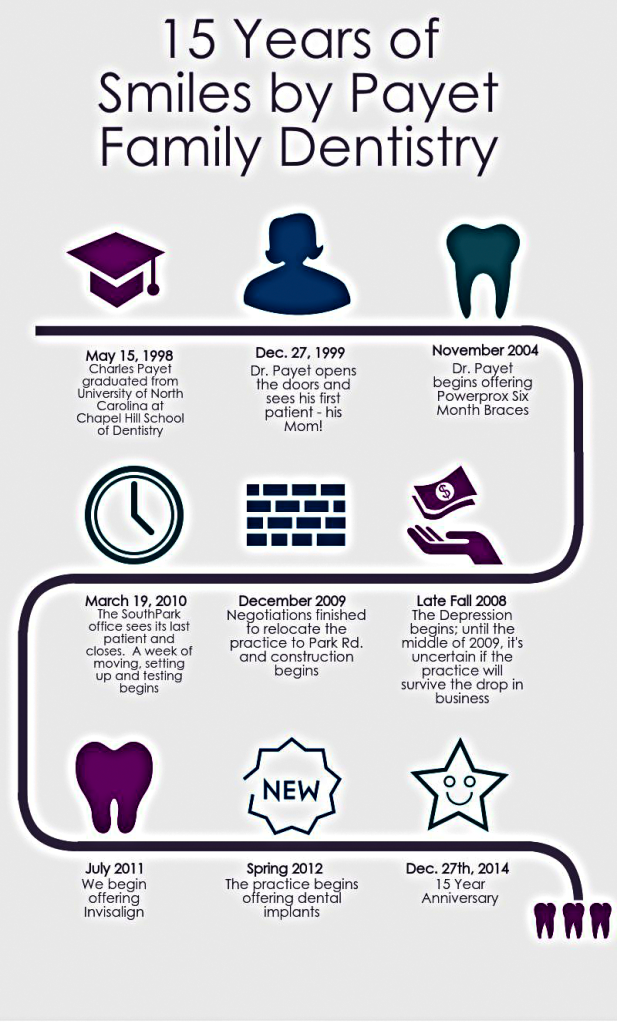 The First 5 Years (1999-2004)
When I started my practice, I dreamed of becoming a big cosmetic dentistry guru.  I wanted to help change people's lives.  I was 27 years old, naive, idealistic, and a dreamer.  Not that those are bad things, but some practicality and good sense go a long way in business, too.  It took a long time before I gained those, so it's a good thing I can look back on the past with a sense of humor, knowing we eventually overcame those early struggles. We started out with a fully computerized practice, digital x-rays, and even the CEREC 2 (early version of the CEREC Bluecam we currently have), and a mountain of debt.  Ah well……youth.
After opening our doors on Dec. 27th, 1999, the practice grew fairly well for 18 months.  I took a lot of advanced Continuing Education in cosmetic dentistry, and we did OK. But then the terrorist attacks on Sept. 11, 2001 hit.  Business plummeted out of fear that Charlotte might be attacked next, and in early 2002, I wasn't sure if we'd stay in business.  Fortunately, a big radio ad campaign brought in a lot of cosmetic dentistry patients that saved us.  In late 2004, I also took my first course on Six Month Braces, which has been a pretty big part of our practice ever since.
Sadly, while I've always prided myself on being a very good dentist, early on I was a horrible businessman and quite frankly, over the next several years, the practice came close to shutting down several times.  I was the poster-boy for credit card debt and lack of financial restraint, and by late 2004, despite good growth, the practice was in serious trouble.
The Second 5 Years (2004-2009)
We renewed our lease at Avery at Morrocroft for another 5 years and kept plugging on.  Ultimately, the road to recovery began with my marriage in early 2006.  Fara and I met (through Match.com, would you believe it?) in Dec. 2004, we became engaged in Oc. 2005, and married in March 2006.  Along with gaining one daughter, Natalie,  by virtue of marrying Fara, in Oct. 2006 our daughter Elizabeth was born.  By  2007, Fara became involved behind the scenes, mostly in accounting and paying bills after coming home from her job at Wachovia.  As an MBA, she helped me control spending and manage our debt repayments, and she slowly started taking more of an interest in how the practice was being run.  It was a tough time; we depended almost entirely on her Wachovia income and used every penny from the practice to pay off debts.  We purchased a "floor model" of the CEREC 3D at a big discount and started offering 1-visit crowns in Dec. 2007, and we were starting to make progress……..
…….until the Depression hit in late 2008, and it all started going downhill again.
In late 2008 and early 2009, we lost an unbelievable number of patients.  Cancellations were rampant as people lost their jobs, and even the people with jobs were scared to take time off for fear of being fired for any excuse.  Once again, business plummeted, and by the spring of 2009, we were truly on the brink of bankruptcy.  We even talked with an attorney at one point.  I started working at a Medicaid practice near High Point on Fridays to earn a little extra money, and then at a practice in the University area.
So We Took Some Risks
The seeds of the practice rebirth were sown in early 2009, when a dental colleague released a book on how to make dental websites effective.  I was one of the first 5 to buy it and dove in headfirst.  Initially, the goal was to make the website we had more searchable and findable by Google, but in the summer 2009 I started learning to actually build websites for the practice.  Within 6 months, we were already starting to see results, both in Google rankings and in patients actually calling us from the website.  But times were still bad.
In the spring, summer, and fall of 2009, Fara and I took some very big and important risks:
We took out a loan exclusively for marketing.  Radio, newspapers, magazines, direct mail; you name it, we did it.
In July, due to lower back pain, we invested in our first dental microscope, which allowed me to do more root canals in-house
In August, we upgraded our CEREC to the new Bluecam version – faster and better, along with newer and stronger materials
Also in August, we purchased the Periolase MVP-7 dental laser and started offering LANAP
In the late summer, we started talking to one of our patients who was in commercial real estate, and he represented the building in which our new office is located.  After a few months of negotiations and a lot of work to get the bank loans approved, we struck a deal, made arrangements with the various contractors, and construction started in late 2009, shortly before Christmas.
March 2010 we closed the office in Southpark, spent an insane week setting up the new office, and relaunched with more treatment rooms, more visibility, and much lower rent.
The Third Five Years (2009-2014)
With the great recession still in force, we were finally in a position to grow.  With 6 treatment rooms instead of 3, a separate private consultation room, an efficient layout designed to make our workflow easier, an easier-to-find office, consolidated debt payments, and a solid marketing plan in place, we actually did grow! In fact, we've now grown to the point that we're almost bursting at the seams again.  This time, however, we do NOT plan on moving – just learning how to be yet more efficient, while providing the personal touch that we've always been known for.  Honestly, I hope we never have to move again – that was an experience that does NOT need repeating!  LOL
As for new things?  Yes, we've continued doing that, too!
What Does the Future Hold for this Charlotte Dentist?
To tell the truth, it probably won't be nearly as dramatic as the first 15 years.  At least, Fara and I sure hope not!  😀  Realistically, we'd like to grow the practice a bit more so we can finish paying off the practice loans early.  Heck, I haven't been debt-free since I started dental school more than 20 years ago.  We think we'd like to see how that feels for a change, so no plans for any more new technology purchases unless something dies.  Our team has really stabilized, with the sad exception of losing Rosie :-(, and having a dependable, hard-working, wonderful group of people with whom to work every day is an amazing feeling.  So basically, our goals for the foreseeable future are to just keep working as hard as we can to take care of you, our awesome patients; to pay off those loans, and to enjoy our lives.  We'll probably take a little more vacation time as our daughter Elizabeth grows up, though.  I still love doing dentistry and taking care of people, even if it's not nearly as much through cosmetic dentistry as I thought early on, but it's time to enjoy life a bit more.  Beyond that?  To find out – you'll just have to stay tuned here for updates, won't you?  🙂
In closing, though, there is one thing in particular that I have to say: none of ANY of this would have been possible without YOU, our wonderful patients.  So many of you have been with us the entire 15 years, some are more recent, but if it weren't for you, we wouldn't be here.  Not just in the business sense, but you are the reason we do what we do, because we love taking care of you. So to all of you, Fara and I would like to say