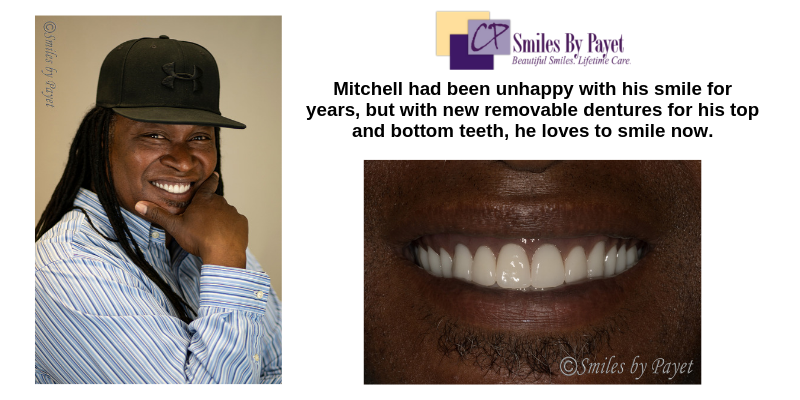 Removable Dentures
While removable dentures are usually a last resort, sometimes they're the right choice.  We work hard to help you avoid dentures, including LANAP to stop gum disease.  If it's time for dentures, we don't just give you a "plate,"  though.  We give you your smile back! You can Call Us Today or Request a Complimentary Consultation about a beautiful smile with removable dentures today.
What makes dentures look natural and real?
You know a lot of dentures look like dentures, not like real teeth.  That's not what you want, right?  Do you want everyone to know you have dentures? No, you want a beautiful smile, so no one knows you have dentures.  But what makes our Smile Design Dentures different? What makes them look real, not like chicklets?  Any why should you consider paying top dollar, because after all, the best aren't cheap.  In fact, we're among the most expensive dentures in Charlotte – and our patients tell us, "They're worth every penny!"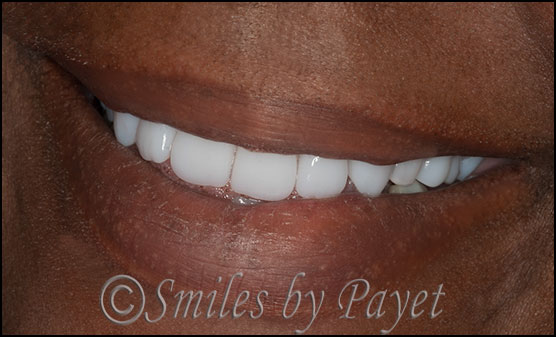 Most of it comes down to the quality of the materials.  The rest of it comes down to the time that we spend talking to you about your expectations, then making sure that we meet them.
Premium vs. cheap teeth: there's a HUGE difference in how high-end teeth look compared to bargain-basement ones.  Cheap ones have no shine, look "flat," are square, and are usually lined up almost too perfectly, which is not really natural.
Premium bases with natural pigments vs. cheap acrylic: look at the "gums" of cheap dentures.  You can't miss them, right?  They're bright pink, very shiny, polished, and they look fake. Have you ever seen a person with shiny gums? I didn't think so.  🙂  Smile Design dentures don't look like that – they have natural-looking texture,  colors, & aren't shiny.
Customized tooth setups: on cheap dentures, the teeth line up totally even.  Real teeth don't look like that.  You get to pick how you want your teeth to look, including any little "imperfections.  They actually make your smile look more natural.  Rotate 1-2 teeth slightly, leave a little gap, or make the teeth slightly uneven.  It's weird but true:
Make the denture less perfect, &
it makes your smile look more natural.
Smile Design Dentures Custom-Made for You
There are basically 4 kinds of dentures:
"Immediates" – you have a bunch of teeth to come out & want teeth right away.  The lab makes the denture in advance. Then you get your new smile the same day as the extractions.
"Regular" – you're already missing your teeth & need a new or replacement denture.  This usually takes 4-6 weeks & 3-5 appointments.
"Implant-Supported" – lower dentures suck.  They move around, fall out, etc (see the skydiving granny who loses her teeth).  Attach them to dental implants though, and they're WAY more secure!  (See below)
Partials – you have some good teeth but find multiple implants & crowns are too expensive.

one has a base of acrylic, these are less expensive, usually a little flexible, and are generally less comfortable.
one with a metal framework, covered with acrylic.  These are strong, long-lasting, and more comfortable.
Implant Overdentures
Do you have loose dentures or want teeth that stay in and you don't take out at night?  Then you want some type of dental implant overdentures!
There are several types of restorations that we can put on top of dental implants.
Beautiful, Secure Dentures to Chew, Talk & Smile Confidently!
Our goal is to give you with a new smile, whether held in by implants or not.  If this is what you're seeking, please Give Us a Call or Request a Complimentary Consultation today.  We'll have a new Before/After Gallery of Dentures up soon, too!