In cosmetic dentistry, matching a single front crown or veneer to the natural teeth around it is considered the single most difficult cosmetic challenge there is.  And when that crown is on a dental implant, it's even harder.  This is when you want a dentist with lots of experience to put together the right plan and the right team for the best possible result.  Here at Smiles by Payet Family Dentistry, that's exactly what you'll find, and here's a perfect example of how it can be done.
A Smile Makeover in Stages
When Griffin first came to us in 2011, his main concern was to replace his missing front tooth.  While we could have finished his case fairly quickly with a dental bridge, or even with just the dental implant and crown, there were a couple other things about his smile that could be improved, too.  The spacing wasn't ideal, and the teeth on the left side were slanted wrong; if we'd left them as is, it would have been almost impossible to change after the implant.
While a dental bridge could have fixed those concerns, Griffin wisely avoided that choice because the neighboring teeth were perfectly healthy, and there was no good reason to drill on them.
The final plan for Griffin was as follows:
Invisalign to straighten his teeth and fix some minor bite issues
Bone grafting since there wasn't enough for the implant
The dental implant
Teeth Whitening
Final dental crown
Step 1: Invisalign and the Implant
The Invisalign treatment was fairly minor and took less than 6 months.  Next we referred him to Dr. Mehul Gadhia of PerioCare Carolinas for the bone augmentation; after the necessary 3 months of healing, a dental implant was placed by Dr. Gadhia.  We do many implants here in our office, but we love working with Dr. Gadhia on these challenging cases due to his knowledge and experience.  Griffin has told us that the whole experience was much easier than he'd anticipated.
Step 2: Teeth Whitening and the Dental Crown
We did the Teeth Whitening while the implant was healing, so once the implant had stabilized, it was time to work with one of our awesome labs to get the dental crown made.  Again, while we make most of our porcelain crowns here in our office with our CEREC machine, we needed a real porcelain artist to match the fine details present in the surrounding teeth.  In these cases, we turn to Al Hodges of Highland Dental Arts, who is known around the world for his skill.  But first, we needed to "mold" the gum tissue around the implant to the right shape, so the new crown would look like it's coming out of the gum just like a natural tooth, so Al made us a custom temporary crown.  This temporary crown looked good, too, so we could work out the details of shape and color for the final crown.
We use a nifty flash filter called the polar_eyes, which removes the glare of the flash, allowing us to see the pure color of the teeth, which is extremely helpful.
I'm including a couple "artistic" photos that I took of Al's exquisite labwork for fun and to show off the amazing details that he builds in, as well as because I"m a photo geek.  🙂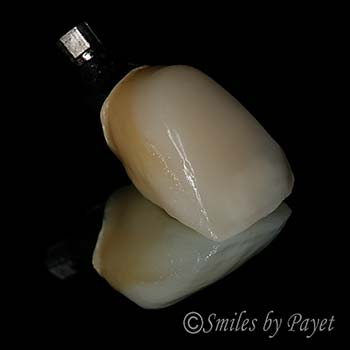 Because of the difficulty in matching Griffin's teeth, it did take 1 extra appointment to get it just right, but that's the commitment we make on cases like this – whatever it takes, that's what we do.  🙂
Smile Makeovers Take Time to Do Properly
From start to finish, Griffin's case took just about 2 years to complete.  Obviously, not all smile makeovers take this long, but sometimes they do.  If all you need is porcelain veneers, they can usually be done in a matter of weeks.  If this had been a natural tooth, it would have only needed a few weeks after the Invisalign was completed.  Right now we are nearing completion of a case that involved Six Month Braces on the lower teeth and 2 crowns on the top front 2 teeth, which I'll look forward to showing you as soon as it's done (with the patient's permission of course).
Griffin's Finished Smile Looks Awesome and So Natural
In the end, the goal was to give Griffin a smile that looks so natural, no one will even know he's missing a tooth.  All they will know, unless he tells them, is that he has a great smile…….a Smile by Payet.  🙂
If this is the kind of dentistry you'd like,
Request an Appointment Online or call us at 704-364-7069.
We'll look forward to meeting you soon!