While not an easy job, some days dentistry is one of the most rewarding jobs on the planet, and today was one of them! Cosmetic dentistry can take many forms, but when it involves multiple different procedures and materials, it can be an hugely challenging job to make it all turn out just right.  In our Charlotte dentist office, we use the most modern technology and teamwork and skills to make this happen, and today was a perfect example of how it should all come together for a beautiful smile.
A Broken Porcelain Crown and Space Between the 2 Front Teeth
When Anya first came to us for a consultation, it seemed fairly routine – she had a 10-year old porcelain crown that had a chipped corner, and she didn't like the gap between her 2 front teeth.  So I recommended some bonding on the left front tooth and having my lab make a new porcelain crown for the right front tooth.  While I love our CEREC Same-Day Crown system, I felt we'd get the best result with a skilled porcelain artist, aka a lab tech.  But as I got up, I noticed she seemed upset, so I asked what was wrong, and she told me of how bad the experience was the first time she got the crown done, and I realized we couldn't do that to her again.
The challenge was then – make as perfectly matching a new crown as we could in ONE VISIT, plus close the space between the teeth.  And if there's one thing I like, it's a challenge!
Cosmetic Dentistry is about Communication
So after plenty of discussion, we decided on the following plan:
BOOST! One-Hour Tooth Whitening (completed the same day as her consultation)
Schedule a full-morning with a local, talented lab owner and technician, Lindy Sikes
Use our CEREC CAD/CAM to make an crown in our office
Have Lindy do some custom porcelain work and staining for ideal match
Bonding on the left front tooth to match
When Anya arrived this morning, we began by taking a LOT of photos to help us choose the most accurate color, like this: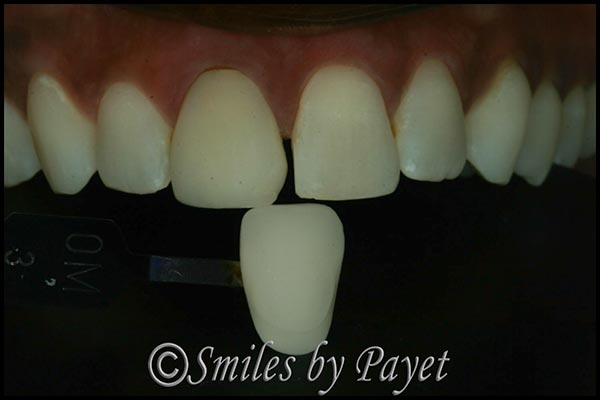 Then we use a little rough bonding to give us a baseline for the new crown and the bonding that we'll match to it later:
Then we took off the old crown (No need to see that, right?  Kinda freaks some people out.), took our digital CAD/CAM images and started designing the new crown, like this:
Here's our expert lab technician, Lindy Sikes, hard at work tweaking things to be juuuuuuust right!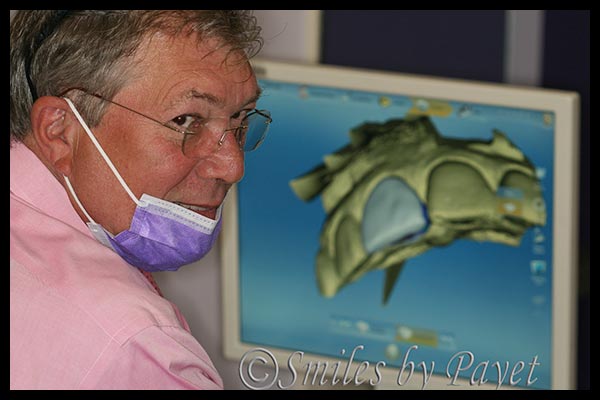 While Lindy did some masterful work on the crown, we got to work doing some cosmetic tooth bonding on the left front tooth so the two teeth would be balanced.  Once that was done, Lindy brought in the crown for us to try in and make sure it was just right, and boy was it ever!  Just to make sure, we took more pictures, even converted one to Black-and-White to help us see details:
And once we knew it was looking awesome, we asked Anya if she liked it, and she said yes, so we bonded the crown in and voila!  In just 1 appointment, we replaced the old crown and closed the gap so perfectly, even I have trouble seeing them!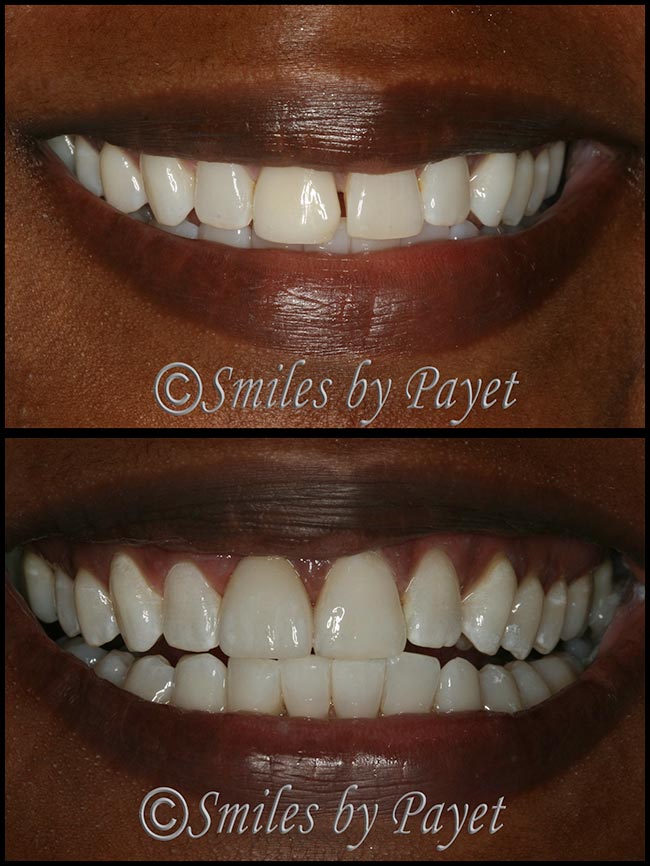 Tell us what you think in the comments!  Share on Facebook, +1 on Google+, Tweet it on Twitter, or share however you like!
To make an appointment for a Complimentary Consultation:
Request an Appointment Online or call us at 704-364-7069.
We'll look forward to meeting you soon!