Six Month Braces
Straighten Your Teeth Fast with Six Month Braces
Before we started offering Powerprox Six Month Braces, way back in 2004, any patients coming to our Charlotte dentist office wanting straight teeth, believed that they only had 3 choices:
Do nothing and just live with their crooked teeth
Go through 2-3 years of braces
Have an expensive Smile Makeover done
With Six Month Braces though, we use practically invisible tooth-colored brackets and wires, very light forces, we can straighten your teeth faster than most people believe.  Just look at what we can do in only 6 months!
Caroline is a Charlotte NC model and realtor; she knew the value of an attractive smile.  With Six-Month Braces, followed by 2 Porcelain Veneers made with our CEREC Same-Day Crown system, she now loves showing off her smile, whatever she is doing!
Avana is a beautiful young lady making her way to New York for modeling or acting and needed a beautiful smile quickly.
View More Before-Afters on our Six Month Braces Smile Gallery, Call Us, or Request a Complimentary Consult Now!
How Does Six-Month Braces Work?
Six-Month Braces uses light forces, nearly invisible clear brackets, and space-age wires that naturally work to position the teeth right where they should be.
Are There People This Won't Work For?
So there is no confusion: Six Month Braces is NOT an alternative to comprehensive orthodontic treatment, not even for adults.  Six Month Braces is only for mild-to-moderate cases that can be done quickly. There are patients who really SHOULD have comprehensive orthodontic treatment, which we can do with Invisalign.  We also refer patients to Webb Orthodontics for cases that are challenging.  Six Month Braces is almost never right for children.
Other patients who might not be good candidates for Six-Month Braces may include:
If you have any symptoms of TMD, or jaw problems. Muscle pain, joint pain, frequent headaches—these are some symptoms of TMJ problems.  If you have them, it is important to have that thoroughly diagnosed before orthodontic care of any kind. Braces might help, or they might make it worse.
If one jaw is significantly larger than the other.
Patients who just don't have attractive teeth. Sometimes even a straight smile doesn't look good if the teeth are too small or too big, or if they are badly discolored. In this case, porcelain veneers may be a better option.
Six Month Braces Are Great for Adult Orthodontics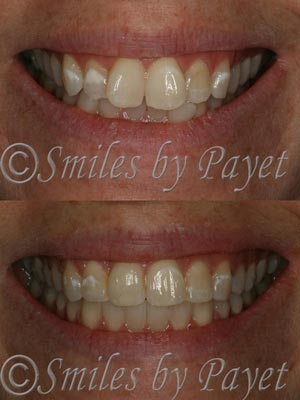 One of the most common questions we get is, "Aren't I too old for braces?"  Our answer is – absolutely not.  Scout's Honor – my oldest patient to ever get Six Month Braces was 74 years old!  And if she could do it, you can too.  In fact, the average age of our Six Month Braces patients is in their late 30's to early 40's, and about 75% of them have had braces before, but very often they lost or stopped wearing their retainers, so some teeth shifted.
Is  Six-Month Braces a New Thing?  Is it Safe?
Limited orthodontic treatment has been around for decades. However, in years past, it was much more difficult because of the wire materials available, which required more specialized training in how to bend them. Nowadays, we use advanced wires that literally do much of the work by themselves, so more dentists (and orthodontists!) are offering this service to adults who just don't want to, or need to, go through comprehensive orthodontic care. The clear brackets are also a far more attractive option for working adults who don't want everyone to know they have braces.  🙂
What About Invisalign Express?
Thanks to the popularity of Six Month Braces for Adult Orthodontics, Align, Inc. introduced their Invisalign Express option in 2012.  This is a great option for adults who just refuse clear even the practically invisible brackets we use.  These Clear Aligners also work well, but they are typically slower than brackets.  You just can't put as much pressure on teeth with aligners as with brackets.  Plan on 2-4 extra months with aligners vs. brackets.  Invisalign Express is usually a bit more expensive, too.
Six Month Braces Really are Practically Invisible
Take a look at Giovanna; she has braces on both the top and bottom teeth with the wires in place. And no fuzzy pictures that you can't even tell—I ENHANCED and SHARPENED her smile in Photoshop to make it even crisper and clearer, but it's STILL hard to see those braces!
Six Month Braces Testimonial
And if you want to hear one of our patient testimonials first-hand, listen to William and his experience with us:
Is this the kind of smile and confidence you want? 
Give us a Call or Request an Appointment for a Complimentary Consult. 
It's that easy to start.