Dental Implants Charlotte NC
Do You Need Dental Implants in Charlotte NC?
If you need dental implants in Charlotte, NC, whether you have one or more missing teeth, dental implants are a comfortable way to replace them.  Dental implants placed by Dr. Charles Payet, one of Charlotte's most experienced and highly trained dentists, look and feel totally natural.  They're the best tooth replacement option available and can last your whole life.
Do any of these apply to you?  If so, then you're probably a good candidate.
Missing one or more teeth
Embarrassed to smile because of missing teeth
Can't eat the foods you want
Tired of worrying about your dentures falling out
If you want to smile, eat, & talk with confidence, Call Now for a Free Dental Implant Consultation Today (includes a FREE 3D X-ray)!
Why Choose Dental Implants to Replace Teeth?
Dental implants placed by Charlotte NC dentist, Dr. Charles Payet, are the best way to replace missing teeth.  There are many advantages to dental implants over alternatives, such as dental bridges and removable dentures.  Permanent dental implants don't require drilling on healthy neighboring teeth, can't get cavities, and should last your whole life.  They also look and feel like completely natural, healthy teeth!
We know that eating healthy foods is important to your oral and total body health.  Trying to eat with teeth damaged by cavities or gum disease is much more difficult.  Since dental implants are so strong, you can eat all your favorite foods, from steak to corn-on-the-cob, and even raw vegetables.  That means dental implants can help you live a healthier, happier lifestyle.
Feel Confident with Implant Dentures
If you wear dentures, you probably get frustrated keeping them in place, right?  Dental implants are the best way to eliminate all the gooey pastes and pads.  Just 2 dental implants to support a lower overdenture make a huge difference.  If you want a full arch of permanent teeth, just like natural teeth, you want "teeth in a day" dental implants.  For that, we place 4-8 implants per jaw, and a temporary implant bridge is attached on the same day.  That's right – you will walk out with a brand new smile, the same day you walked in to have your unhealthy teeth removed.
What are the Steps to get Dental Implants?
Your Complimentary Consultation includes an initial exam by Dr. Payet and a 3D x-ray.  He and his team review your goals,  check the health of your teeth, gums, and bone, & review your medical health.  You'll learn all the tooth replacement options, from single dental implants & crowns, to dental implant bridges, to dental implant overdentures.  You're informed about time involved, fees, dental insurance, & payment options, including dental financing.
If you're a candidate for one or more dental implants & are ready to go, step 2 is a complete exam.  This includes photos and a digital scan of your mouth.  We design & 3D print a custom surgical guide before your appointment. If the missing tooth being replaced is in your smile, we offer options to improve your smile while the dental implant integrates into your bone.  One option is called a "flipper;" it's a small removable denture for up to 3-4 teeth.  If your bone is really good, you can have a temporary crown placed on the same day as the dental implant.
We usually wait 3-6 months after the implant has been placed to make an implant crown.  A dental implant crown looks just like a crown for a real tooth on the outside, but it's held onto the implant with a screw.  Your crown should look natural & healthy, so we carefully match the color to your real teeth.  You can do teeth whitening first, if you want a brighter smile.  If all your teeth are being replaced, you can choose the look and brightness of your new smile.
Are Dental Implants Affordable?
It's true that dental implants are a long-term investment in your oral health.  Because they last much longer than other tooth replacement options, they're actually very cost effective.  You can learn more about fees, and how dental implants can be affordable on our  implants cost page.
Dental Implants Look Natural
When Tim first came to us, he knew he had a problem front tooth.  A 35yo crown broke below the gum line and couldn't be fixed.  As part of a team, Dr. Payet worked with an amazing periodontist and superb dental lab to place a dental implant, then custom-match new dental crowns to match his teeth.  Now Tim can smile and eat with total confidence again!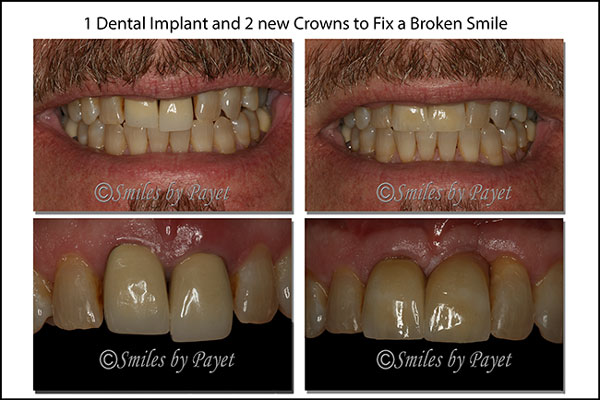 To make an appointment for a Complimentary Consultation:
Request an Appointment Online or Call Us Now.
We'll look forward to meeting you soon!