DRAFT Cosmetic Dentistry
A New Smile for a New You
Stop imagining yourself looking & feeling confident with a beautiful smile.
Cosmetic dentistry by one of Charlotte's premier dentists,  Dr. Charles Payet, makes it possible today.
People sometimes mistake cosmetic dentistry as mere vanity, even though it dramatically boosts your confidence and self-image.  A straight, bright smile makes you look and feel attractive, confident, and happy.  Smiles by Payet Dentistry uses the best technology, an artist's eye honed by years of experience, and teamed with an artistic dental lab, to create the smile you've always wanted. You may choose a Hollywood smile with porcelain veneers, straighten your teeth with Invisalign or invisible adult braces, or teeth whitening.  If you're ready to transform your smile, request a Complimentary Consult with Dr. Payet today!  As a member of the American Academy of Cosmetic Dentistry, he has the knowledge and experience you need.
Types of Cosmetic Dentistry
Just as cosmetic dentistry is more than just Hollywood white teeth, the positive impacts it can have on your life are wide-ranging.  Straight teeth are easier to clean, thus improving your oral health. Feeling good about your smile increases self-confidence, whether in a job interview, among friends, or on a date.  Dr. Payet can discuss all these possible cosmetic dental procedures available, based on the results you want, your goals, budget, and time frame.
Porcelain Veneers
Crowns
Short-term Orthodontics
Cosmetic Gum Surgery
Teeth whitening, including Deep Bleaching
Dental bonding
Porcelain Veneers
Veneers are thin, custom-made porcelain shells, which are bonded to your teeth to change their size, color, shape or position.  Porcelain veneers are a permanent way to whiten your teeth, as they never change color.  Dr. Payet can make your teeth look straighter, longer, repair chips and cracks, and more in just a few weeks.  They are more conservative and require much less drilling than porcelain crowns.  See more porcelain veneer cases by Dr. Payet.
Learn more about Porcelain Veneers.
All-Ceramic Crowns & Bridges
Sometimes also called a "cap," a dental crown rebuilds teeth that are too worn, chipped, or broken for a veneer.  With modern ceramics like E.Max and Zirconia, Dr. Payet creates healthy smiles and bites. Today's all-porcelain crowns look and feel natural, with no dark lines at the gum to give them away.  No one will ever know they aren't your natural teeth, they blend in so well.  As with  crowns, Dr. Payet uses modern ceramics to replace missing teeth with all-ceramic dental bridges.  Cosmetic dentistry with crowns and bridges is long-lasting, too.  See more dental bridge patients of Dr. Payet!
Learn more about crowns and bridges.
Smile Makeovers & Full Mouth Rehabilitations
Patients requesting cosmetic dentistry have often neglected their dental and oral health for many years.  Complete smile makeovers can include a combination of porcelain veneers, crowns, bridges, laser dentistry, and implants.  Dr. Payet has extensive training and experience putting all of this together for a beautiful, long-lasting smile that restores the way you smile and eat.
Learn more about Smile Makeovers.
Teeth Whitening
So many Charlotteans live with stained, unsightly, discolored teeth, but you don't have to!  Dr. Payet offers several options to improve your smile with teeth whitening.
traditional custom-made Whitening Trays that you wear just 30 minutes per day
single-visit, in-office Power Whitening,
even whitening tetracycline-stained teeth with Kor's Deep Bleaching Ultra-T
Learn more about Teeth Whitening.
Invisible Adult Braces
If your teeth look beautiful but are crowded or spaced out, don't get them drilled for veneers or crowns!  Straighten your teeth quickly, comfortably, and easily for a healthy smile with Invisalign or Six Month Braces.  Adult braces are really just affordable & conservative cosmetic dentistry.  Why not straighten your smile in the time between 2 check-ups?  See more Adult Orthodontics results by Dr. Payet!
Learn more about Adult Orthodontics.
Beautiful Dentures
While many people think that dentures always look fake, Dr. Payet believes that people with dentures also deserve beautiful smiles.  Using only premium materials, designed to look as natural as real teeth, dentures also deserve to be called cosmetic dentistry.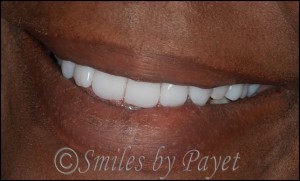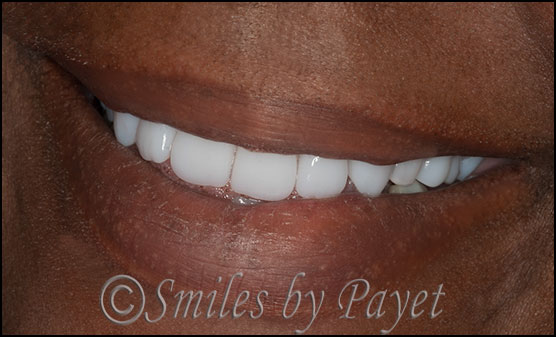 Learn more about Cosmetic Dentures.
Cosmetic Gum Surgery
If you're embarrassed by a gummy smile and short teeth, cosmetic gum surgery dramatically transforms a gummy smile.  Dr. Payet uses modern laser dentistry, with the Fotona Lightwalker dual-wavelength dental laser, to comfortably and precisely remove excess gum and bone, revealing the teeth hiding underneath.  Your recovery is fast and painless, and the results are visible the same day!

Learn more about Cosmetic Gum Surgery.
Dental Bonding
Today's tooth-colored fillings rebuild chipped and worn teeth, replace old silver fillings, and mask discolored teeth.  Dr. Payet uses the Fotona Lightwalker laser to painlessly remove old bonding and shape teeth with no shots or drills.


Learn more about tooth colored bonding.
Schedule Your Cosmetic Dentistry Consultation Today
Cosmetic dentistry can literally change your life for the better.  The above options transform our patients' smiles in less time that you imagine.  To learn how Dr. Payet and his team at Smiles by Payet Dentistry can create a smile you love, Call Now or Request a Complimentary Consultation today.