Cosmetic Dentistry
Cosmetic Dentistry & Smile Makeovers
In today's world, an attractive smile is more important than ever. Job interviews, online dating, just your general social life…….as they say, "The eyes are the window to the soul, and the smile is the window to the heart."  Are you confident that you are putting your best foot forward every time you smile?  If not, cosmetic dentistry might be just what you need.  Just like my wife Fara wanted; you can read about her porcelain veneer smile makeover on the blog.  🙂
Have you been embarrassed about your smile? Do you cover your smile with your hand every time you laugh or smile because you don't want anyone to see how dark, crooked, uneven, broken, or decayed your teeth are?  There are so many options to give you a beautiful smile now, isn't it time you called us to change that?
See More Smile Makeovers in our Smile Gallery!
Porcelain Veneers
Cindy first came to see me about making some changes to her smile in 2001; she had braces previously and was not interested in doing them again. As the President and Founder of the AMG Consulting Group, with years of Investment Banking experience, Cindy knew just how important it is to feel good about your smile.
Cindy ultimately chose 10 Porcelain Veneers to straighten her teeth, improve their shape, and brighten them up. 8 years down the road, Cindy still loves her smile; even more importantly, she LOVED her smile in her wedding photos recently!
If you want to smile as big and as confidently as Cindy, and you're looking for an experienced Charlotte cosmetic dentist, Call Us or Request a Complimentary Consultation today.
Porcelain Veneers & Dental Crowns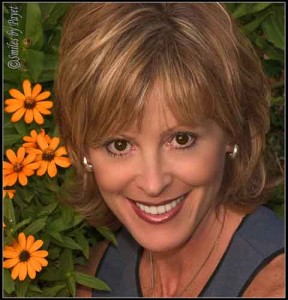 Terrie Reeves has more energy than most groups of 10 people, and she wanted her smile to match her warm, open, and amazingly cheerful personality. Her teeth had been worn down by grinding and just yellowed with time; she was looking for a Charlotte cosmetic dentist and found us.
We ultimately chose to do a combination of 20 Porcelain Veneers & Crowns to give Terrie the Smile Makeover she wanted, and Terrie, who is the Founder and President of the Wellness Coalition of America, has absolutely loved her new smile since 2006.
Terrie understood how important her smile was to her appearance, because she is frequently on TV doing spots about your overall health. She says she now feels 100% confident every time she's on camera.
Dental Bridges to Replace Missing Teeth
Shelley was unhappy about a number of things in her smile when she first came to see me in 2005 – the yellow and old porcelain/metal bridge that wasn't as bright as she wanted, the staining on the bottom teeth from lots of tea and coffee. She wanted a metal-free dental bridge, to brighten her whole smile, and of course to get a good cleaning.
After a very detailed consultation, and over a period of several months (full-mouth Smile Makeovers do take a serious commitment, although not all take that long) after getting a good dental cleaning, we replaced her old metal-and-porcelain bridge with a dazzling white, all-porcelain bridge, along with porcelain veneers for the lower front teeth, porcelain bridges on the side top teeth, and more all-porcelain bridges on her lower back teeth to replace a missing tooth on each side.
Shelley knows she has to commit to regular care so that we can help her maintain this fabulous smile. With regular dental check-ups, these restorations can last many many years, giving Shelley the confidence in her smile that she'd lacked for so many years.
Porcelain Crowns & Dental Implants to Repair Acid-Eroded Teeth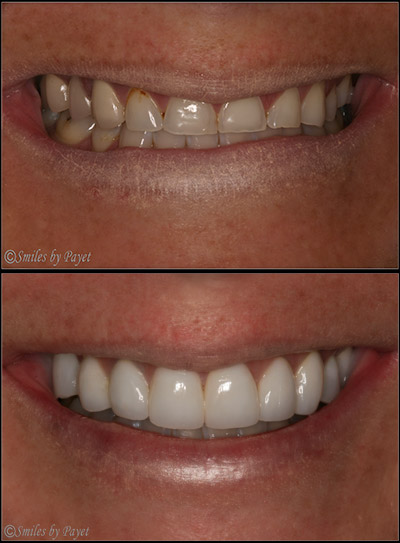 When Jenni (not her real name, as she prefers to stay anonymous) first came to see me through a referral back in 2005 for a Smile Makeover consultation, she admitted that she had suffered from bulimia as a teen, about 20 years prior. She had recovered from this debilitating disease and had been leading a healthy, normal life for many years, but her teeth had been so eroded that she was extremely self-conscious and embarrassed by her smile.
Since Jenni's original issue had been addressed medically, we were safe moving forward with a greatly decreased risk of acid erosion causing problems again, although bulimics are at a much higher risk of GERD/acid reflux, so she is monitored regularly by her physician, and she uses a prescription strength fluoride rinse daily to help protect the teeth under the porcelain.
I think you'll see why Jenni is now happy with her smile.
To make an appointment for a Complimentary Consultation:
Request an Appointment Online or call us at 704-364-7069.
We'll look forward to meeting you soon!