Meet Dr. Payet
A Caring Charlotte Dentist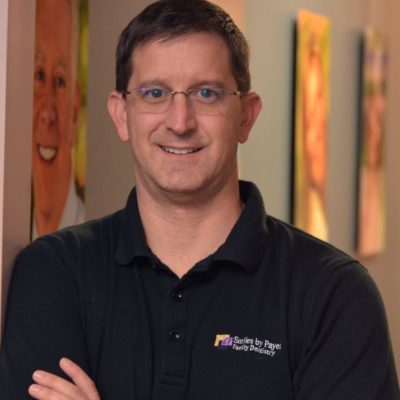 Hi, I'm Dr. Payet, and I've been a Charlotte dentist ever since 1998, moving here after both undergrad (Class of '94) and dental school at the UNC-Chapel Hill School of Dentistry (Class of '98).  While not originally from here (who is, right?  LOL), I do have deep roots in the area, as my mother grew up in Albemarle, my dad went to Chapel Hill, and most of my family is in North Carolina.  At heart, I am a true-blue Tar Heel!
Some may think it odd that I love being a dentist, but seriously…I do!  Every day is different, every patient is unique and special, there is ALWAYS more to learn, so I get to have fun doing what I do. I've attended many of the top post-graduate institutes for Continuing Education, usually completing 50-100 hours of advanced training per year to keep current.
Besides being an eternal student, I also enjoy teaching, and have done so at the following:
As an Adjunct Clinical Instructor at the UNC School of Dentistry, helping dental students learn;
As a Faculty Mentor at the Nash Institute for Advanced Dental Learning, where I taught other dentists advanced skills in cosmetic dentistry;
Founded a Professional Study Club to help all Charlotte dentists using the CEREC Same-Day Crown CAD/CAM system;
Lecturing on, and writing a blog about, dental photography, helping other dentists integrate this useful and powerful communication tool into their office;
Lecturing on the benefits and techniques of combined Laser Periodontal Surgery and Dental Braces.
A Little Story About Why I Became a Dentist
I am fortunate and blessed to have three special women in my life: my wife Fara and our daughters, Natalie and Elizabeth, who keep us very busy; add in our dog Starbucks, and we have a full home life.
Besides spending quality time with my family and taking care of you, I somehow manage to find time to enjoy a couple passions: photography, martial arts (Shaolin Kung Fu and Tai Chi at The Peaceful Dragon) and cooking, although I wish I had more time for ballroom dancing and reading.
As part of my continuing professional growth, I am currently a member of the following dental organizations: