Smiles by Payet Family Dentistry is expanding! It's been a long time coming, but it's finally here. I'll be adding photos and updates here as things progress through demolition and construction.
We're Closed for Labor Day & That Week for Construction
Our office will be closed from today, Friday, Sept. 2nd, and reopen with just 4 rooms operational on Monday, Sept. 12th, as construction is anticipated to last through the end of Sept. or into early October. Since we will be short 2 rooms during the time, our schedule will be more limited, but we'll do our best to ensure everyone is taken care of in a timely manner.
This is Phase 1 of 3 and includes the gutting and widening of my 2 main treatment rooms. This will greatly improve comfort for our patients and increase our efficiency, making all of your appointments faster and easier (and who's going to complain about that, right? 🙂 ), as well as adding a new portrait/video studio. I'm so excited about once again offering Complimentary Portrait Sessions for all of our Inman Aligner, Six Month Braces, Invisalign, and Smile Makeover patients!
Phases 2 and 3 of the expansion will be mostly invisible to patients, as they will give us a bigger team break room and lockers, a laundry area for scrubs, and more storage, while Phase 3 will be an expansion of our dental lab and sterilization area and a last bit of additional storage. Phases 2 and 3 won't happen for another couple of years, though.
It's Been a Good Space, but Cramped
So here's how this section of the office has looked for the last 6.25 years, since we moved in on March 19th, 2010.  As you can see, with our CEREC Same-Day Crown machine, or Periolase MVP-7 laser for LANAP, or the Lightwalker laser for "no-shot, no-drill fillings," it gets just a wee bit cramped and cluttered!  Right now, my two main rooms are just 9′ wide and 10′ 11″ deep.  Once they're expanded, they will be 11′ 8″ wide and 10′ 11″ deep, which is going to be MUCH more spacious!
Out with the Old – Cleanup and Demolition
As so often happens (almost on a daily basis), the Smiles by Payet Team absolutely blew me away with their dedication and hard work on Thursday, Sept. 1st.  As usual, the week before we are closed for vacation was insanely busy.  That meant that we had a slam-packed schedule, right up until the close of the day.  But whenever they had a moment, each and every one of them pitched in to clean out the rooms of the things we didn't need, box them up, move chairs and lasers and the CEREC out of the way, and generally get things ready.  Before I knew it, they had everything cleaned out, including computer monitors, computers, cables, and all, so things looked like this….and it was only 4:50pm!!!  They're INCREDIBLE!
So on Friday, Sept. 2nd, it was time for the equipment guys from Henry-Schein Dental to come in and move the patient chairs, x-ray tubes, and Leica microscopes to the conference room next door, which is the room we are taking over for additional space.  For the moment, it's a big storage room.  And then contractors started ripping up carpet, laminate flooring, taking counters, measuring for where new stuff will go, and very importantly, where they will be cutting the concrete with huge saws for new plumbing.
On Labor Day, we made a quick trip to the office to see how it looked after they demolished walls and cut the concrete floor for plumbing on Saturday (apparently the concrete saws are so loud, they only do that when the building is completely empty).  Making good progress!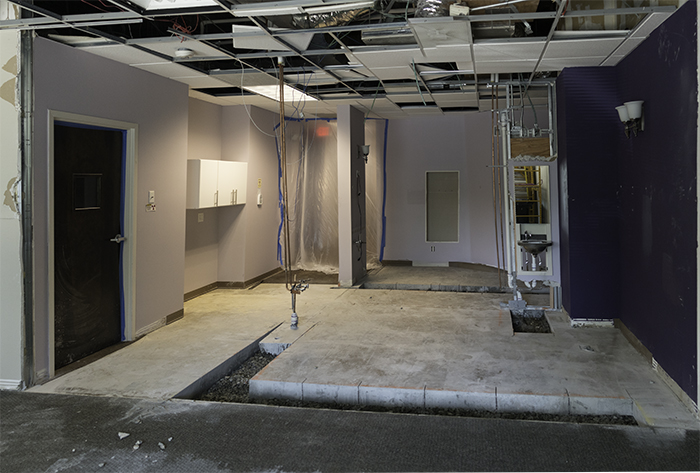 Stay Tuned for More Updates!