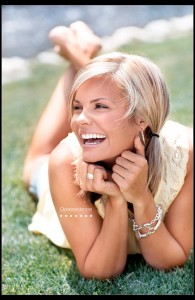 The easiest and most affordable way to a brighter smile, of course, is Teeth Whitening, or "bleaching" your teeth.  Here at Smiles by Payet Dentistry, we offer several ways to whiten your teeth, and which one is right for you depends on your answers to 3 important questions:
How dark your teeth are before starting?
How bright you want them to be when you finish?
How much is your budget?  (Just to be practical, and of course it's a question you'll ask, right?)
(BTW – this is almost the only page on the entire website where I didn't take any of the pictures at all.  😉 Just so you know….)
At-Home Whitening Options
Our most affordable and easy-to-use option to brighten your smile is the Treswhite Pre-loaded Whitening Trays.  Similar to over-the-counter products, but from one of the leaders in professional whitening products, Ultradent, these trays come in 2 sizes:
10 trays (5 for the top, 5 for the bottom teeth).
20 Trays (10 for the top, 10 for the bottom teeth).
(Call for pricing and specials!)

Custom Take-Home Whitening Trays with Opalescence PF Whitening Gel.  We take molds of your teeth for custom-fitted trays.  You usually only need to wear these for 15-30 minutes per day, so they're quite convenient and comfortable.  (Call for pricing and specials!)
In-Office, One-Visit Teeth Whitening
If you are looking for an even more convenient option, we do offer Ultradent's BOOST! 1-Visit Whitening System.  I'll let you know right now….we do NOT use those blue lights or lasers.  Why, you may ask?  For one simple reason: THEY DON'T WORK! Seriously….all respectable, independent research has proven beyond any doubt, those lights do not do anything to make your teeth brighter except to dehydrate them, or dry them out, which will only make them look brighter for a day or so, after which they'll relapse quickly.  It's all about the whitening gel, and again, that's why we only use Whitening Products from a leader, Ultradent.
To make an appointment for a Complimentary Consultation:
Request an Appointment Online or call us at 704-364-7069.
We'll look forward to meeting you soon!